Leaders Open Doors: A Radically Simple Approach to Lift People, Profits, and Performance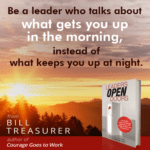 When I picked up this little treasure of a book by Bill Treasurer, I was interested, but still wondering what this would offer that countless other impactful leadership reads out there don't. I was pleasantly surprised on a number of fronts, and found Bill's next book after his internationally best selling book Courage Goes to Work, my new gift to my coaching clients.
I am a woman on the go! Balancing a growing business, volunteering regularly, raising a 6 year old, supporting a college rising-senior and other family demands, I do not take a lot of time to read many books cover to cover. I love books, use references and gain knowledge through the nuggets they provide. However, I am not what one would call a voracious reader. So Bill's simple and pragmatic approach resonated with me immediately, and I love it! Like me, Bill is 'experienced' and has young children, so I related to him immediately. The title of his book is credited to his preschooler who came home one day after being selected 'leader of the day.' When Bill asked his son what he got to do as the class leader, his son replied, "I got to open doors for people!" Bill says that in a matter of 15 seconds, with seven simple words, his son clarified what's most import about leadership. I was hooked!
Bill tells us he is rather a brainiac after a successful career that included an executive position with Accenture. He admits to having been a member of and subsequent resignation from the LLC: Legion of Leadership Complexifiers. That made me laugh. You know, all that leadership-speak that makes us sound worthy of hanging out with the muckety mucks and hossermawickets. I have been guilty of pledging for membership in that club too. It's wat you do when you are climbing that corporate ladder.
It's not about open door policies or keeping your door open. Not even close!

So many quotes I have already shared with my leadership coaching clients, and powerful questions and distinctions have paved the way to make a difference for them in this book. "Leaders would be better served to talk about what gets them up in the morning than what keeps them awake at night." A small nuance, with a powerful shift in energy and how one tackles their world. It's generative, not laden in worry.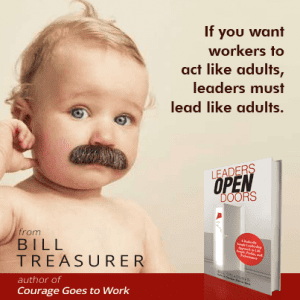 In my work educating leaders on generational differences and Leading Millennials, I hear some tell me. "They're just kids. They don't know anything."

Well that is not a mindset that will win you loyalty and it is not going to inspire or motivate. One of the managers in a recent training actually said to the class, "When those Millennials ask me why I want them to do something, I just tell them if I wanted them to know why, I would tell them. Just do it!" He said it with a badge of honor.

He was unaware how debilitating that was and what that was creating on his team. After all that is how he was raised in the working world. (He has since seen the light and his people are wondering what has happened! Grateful!) Bill reinforces what I have already learned in my own research that when we all act like adults, treat each other like adults, much more is possible.

This hands-on, pragmatic guide will open your eyes to new ways to open doors as leaders. Bill talks about these critical opportunities:
The Proving-Ground Door - "Put me in coach! I'm ready to play!"
The Thought-Shifting Door - "...small language changes. There's a big difference between 'not bad' and 'pretty good."
The Door to Second Chance - ...when honest and legal.
Opening Doors for Others - Not just those who look, act and sound like us.
The Door to Personal Transformation - Inspiring one's own personal transformation is a start!
The Door to Your Open Heart - Answering 'yes' to the 'do you care about me question.'
I am thinking about giving this book to all my new coaching clients. These are foundational principles packaged in a way that can create sustainable behavior change. A coaches door.

Bill Treasurer, Chief Encouragement Officer at Giant Leap Consulting and former U.S. High Diver, wants leaders to be a part of opening doors of opportunities for others to thrive, achieve, and lead. The proceeds of his new book, Leaders Open Doors, are being donated to charities that serve children with special needs. Available on Amazon.
By accepting you will be accessing a service provided by a third-party external to https://www.ermigroup.com/